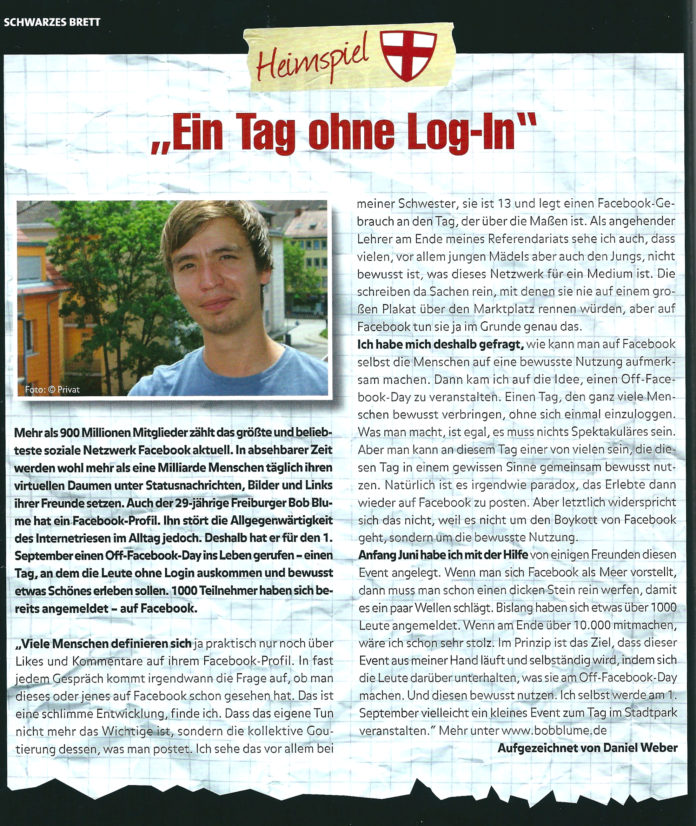 (Die deutsche Beschreibung findet sich als zu vergrößernde Bilddatei unter dem Englischen Text)
Go to the official song!
Deutscher Off Facebook Song: Ich logg mich aus
This is a joint venture.
(Klick on image to enlarge)
Every one of us uses Facebook at least once a day. Don't get us wrong; we enjoy sharing our thoughts with people we value, linking up with old friends, sharing pictures of what we're up to – often across continents. Almost everybody who has participated in setting this up has already found something specific – big or small – that they want do: just take a look at the picture.
This isn't a boycott.
The idea is to do something you've always wanted to do or haven't done in a while.
Instead of using Facebook, let's do it!
 (Picture taken with Hipstamatic and my iPhone)
There have been attempts to get people off Facebook before, but what for? If those using it are happy to use the opportunities just mentioned and many more, why should we get of it?
At the same time though… how would it be if everyone spent one day off Facebook (yes, the mobile version is meant as well ;-)) and planned to do something memorable, outrageous, unique, chilled-out or just plain silly? This might be with people they'd normally be interacting with on Facebook, or it could be a chance to meet other users, locally or in a more unusual location.
We would like to encourage a day when sharing ideas and suggestions goes beyond the borders of cyberspace.
And then we can return to share those experiences.
Our idea is to invite YOU to share your ideas for a Facebook-free day with us and everybody else participating – we have until the 1st of September to do this.
We eagerly await your ideas, be they trivial, thoughtful, funny – who knows where this could lead?
After the 1st of September, we will try to collect the best pictures,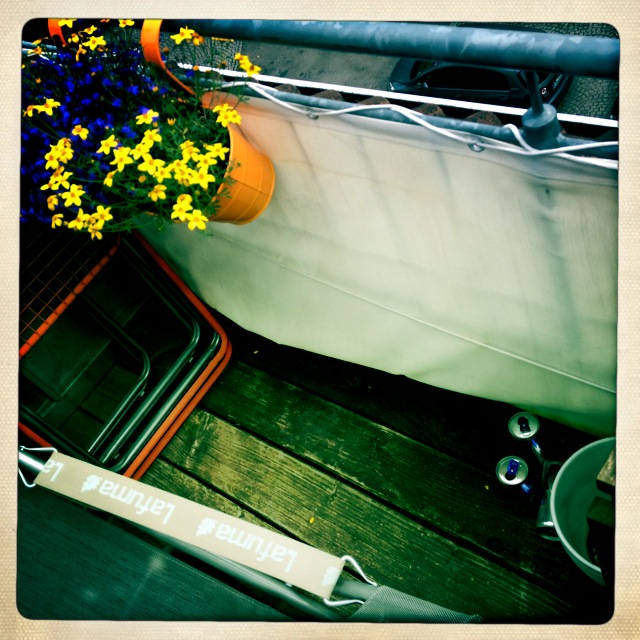 (Picture taken with Hipstamatic and my iPhone)
videos and stories created during this day. What we want to achieve is a day off  that includes the opportunity to share it on Facebook.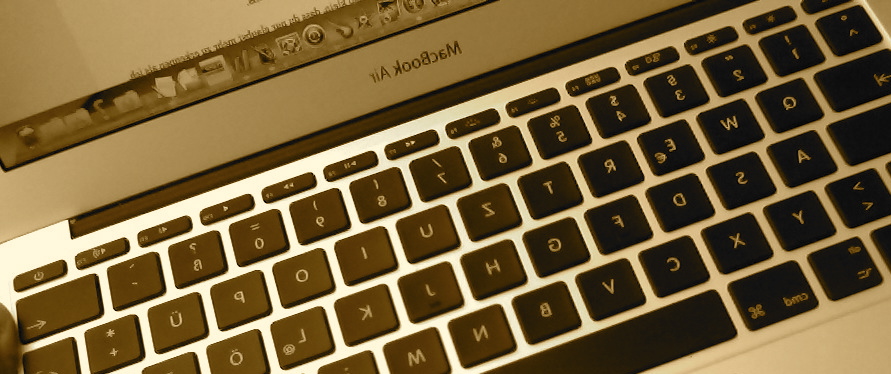 Let's all try to make this a memorable day – one without Facebook and with our friends.
Zeitungsartikel: Chilli – das Freiburger Stadtmagazin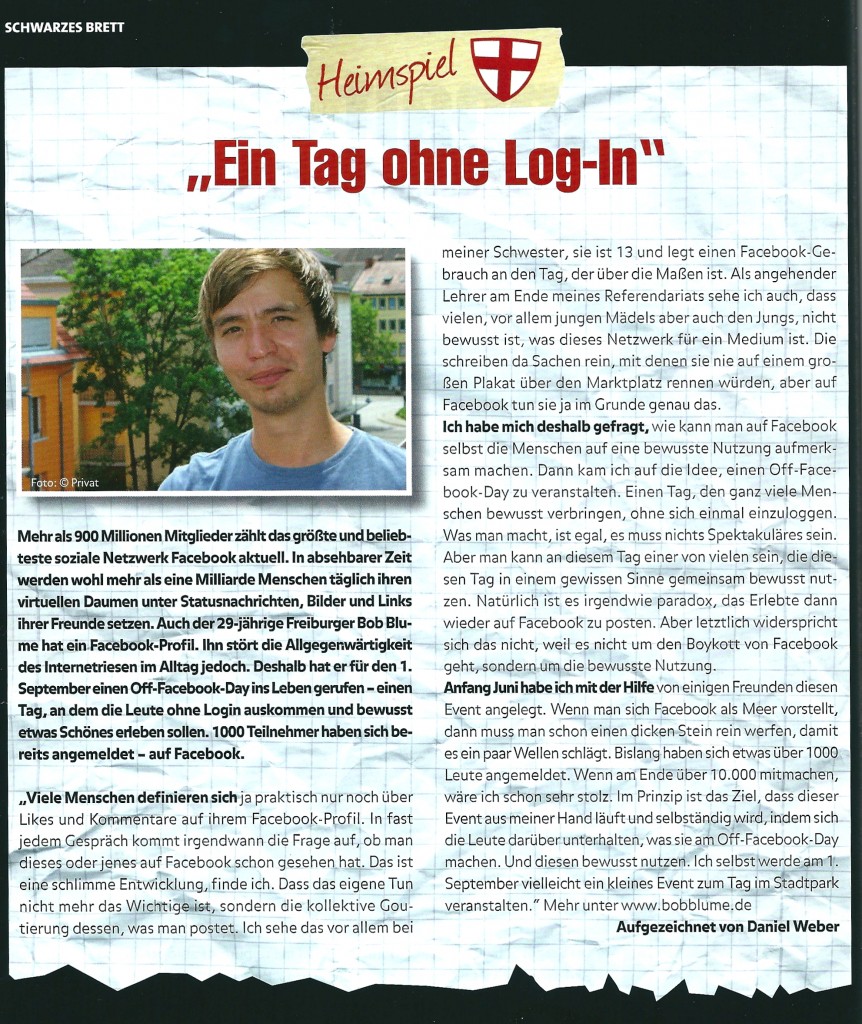 Participants:
Bob Blume (teacher and blogger): Idea and management
www.bob.ld
Twitter: @BlumeBob
info@bob.ld
Thomas Clemens (IT Specialist, Photographer): Graphic Design
http://www.clemens-photography.de
Rebecca Davies (lecturer and teacher): Language consultant
http://www.bexxi.wordpress.com
www.flickr.com/photos/rebecca_bexxi
Twitter: @bexxi
Marc Hofmann (Lecturer and musician): Off Facebook Day Song
Homepage: www.siewerdenunsfinden.de
Solo: http://www.siewerdenunsfinden.de/marc-hofmann-solo/
Facebook-Solo: http://www.facebook.com/pages/Marc-Hofmann-Fanpage/243512939079201
Facebook-Band: http://www.facebook.com/pages/SIE-WERDEN-UNS-FINDEN/434331039927335
Mo Rothe (Law student): Creative Design/ Communication/ productive Critic
Laurids Düllmann (System administration): Administration/ Web-based solution
Nele Blume (nursery school teacher and photographer): Ideas provider and productive Critic
http://www.flickr.com/photos/neleblume/
Kai Woodfin (lecturer and teacher): Ideas generator and language consultant
Marcel Gießwein (Freiberuflicher Bildungsreferent): Networking
(geocoaching, schulbezogene Tagungen, Bildungsarbeit)
info@digitales-draussen.de
Arne Stratmann (Kommunikationsmanager DFL): Networking/ Communication
Christina Weiler (TA and PhD Student): Communication
Clara Terrell (Musician and blogger): Communication
http://tiedaroundthewaste.blogspot.de/
Nicolai Hoch (Student, Singer and guitarist) Communication
http://www.facebook.com/nicolai.hoch
http://www.thesaid.de/band.htm
Hannah Mia Blume (Student): Translation and Communication